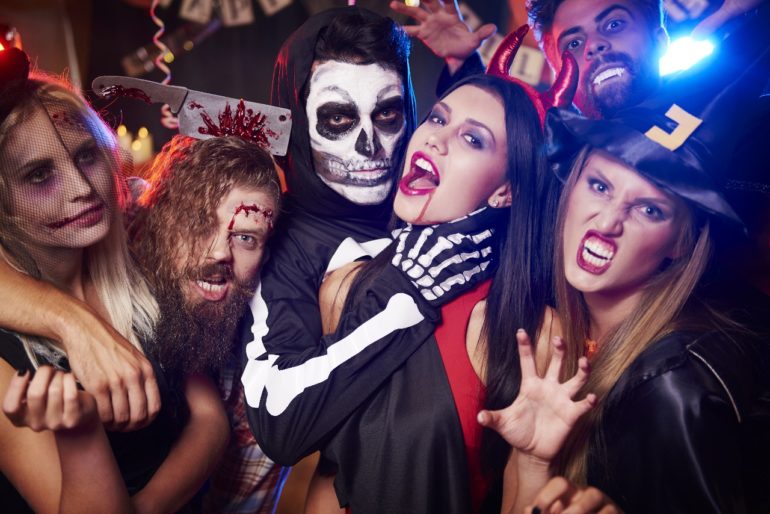 Halloween season is upon us, and now the paranormal fun must begin.  This mysterious time of year is not only for children. Once the kids are asleep, adults can get up to mischief with these great ideas.  Want an excuse for a cocktail party, look at these party ideas and use ​​boutiquefeel reviews to enjoy your Spirits this Spooky Season. Like to keep it simple and have a few friends over to watch horror films, or go big and attend a  real seance in a haunted wine cellar, anything is possible with these tips.
Haunted House or Haunted Asylum?
So what do you want to do on October 31st?  Have you ever considered a themed party? Luckily there are so many different ideas to choose from, haunted houses, characters from gothic novels, characters from popular culture, witches, vampires, and werewolves. The list is endless,  as long as you add an eerie twist.
Who's the Killer? 
Not sure how to entertain your guest? How about the tried and tested Murder Mystery dinner? Create characters and a script, or simply get them online. Decide on the era your mystery takes place and then you can get the correct decor and costumes. Researching a popular drink of the time will have killer appeal.
If you love horror films, how about an outdoor movie night with one of your favorites? You could ask your guests to come dressed as a character from the film. Even better if it is a well-known franchise, you can have a movie marathon night. Make a DIY screen and rent a projector if you don't have one.  Don't forget the popcorn!
Scavenger hunts are also a lot of fun.  Plan your own or get help online. Scavenger hunts can also be done virtually which is perfect for connecting with far-away family and friends. Want to make Halloween night one to remember, take it up a notch and book a ghost tour of your city or hold a seance with a professional medium. Surely being scared is all part of the fun for the scariest night of the year?
Spiritual Intervention!
Halloween without kids is even better with an array of terrifyingly creative cocktails and shots. Try a Vampire Killer Marini, if you dare – does garlic-spiced vodka sound enticing? Perhaps your tastes tend toward wine, a perfect excuse to get a selection of your favorite wines and have a wine-tasting feast.  Of course, let's not forget all the great drinking games that come with the ghosts this time of year.  Play Boozing (yes boozing) for Apples, by adding small liquor bottles among the apples, whoever gets the bottle can enjoy its contents. A quick and easy online search will give you a plethora of drinking games to toast your loved ones. Specifically, those who have passed. Don't forget the veil that separates the living and the dead is at its weakest on Halloween. Make sure to have your jack-o'-lantern hallowed out and ready for a Halloween punch, so you are protected from the ghouls that also want to pay a visit.
Got a place to Haunt?
There you have it, a grim plan to enjoy the nastiest night with friends far and near. Combine these tips with some imagination and this Halloween will be as spookier as ever.  And if it is your scariest experience ever,  remember to play some wicked drinking games to forget all your Halloween horrors.